What is a PEO?
And more importantly, how can it help my business?
In the world of employment and Human Resources, there is an overwhelming number of similar-sounding terms, acronyms, and jargon to wrap your head around.
But when you're busy planning your team's next big move, the last thing you should be worried about is the technical lingo. To help your business keep your eye on the prize and accomplish your goals, we're breaking down (arguably) one of the most confusing terms of them all: Professional Employer Organization.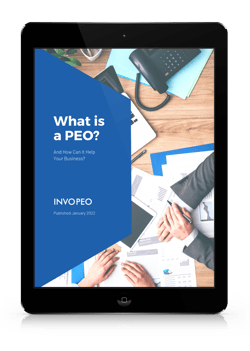 Not sure HOW or WHY your company should partner with a PEO? We get it – there's a lot to consider when determining if a PEO is right for your business.
Don't worry – we'll answer your most pressing questions including:
What is a PEO?

What are the benefits of working with a PEO?

How do PEOs operate?

How is a PEO different from a
Payroll company?

And MORE!
Download your FREE PEO Guide today to learn more about how a PEO partnership could work with your business!
Not sure whether a PEO is a good fit for your business? Don't stress.
Claim your copy of our FREE guide to working with a PEO by completing the form below.